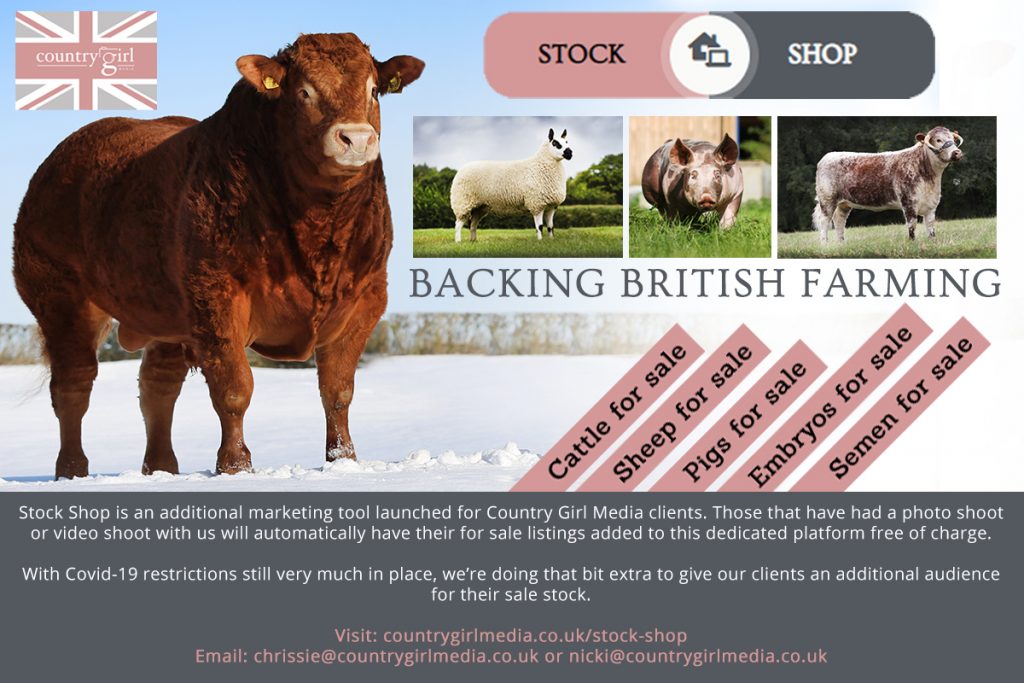 Here at Country Girl Media we work closely with our clients to not only showcase their stock in the best way possible, whether in the form of imagery, video, web or print marketing.
So in light of Covid-19 restrictions still being in place across the UK and many focussing their attentions on giving that extra push for sales from home or prior to Society sales, we've come up with a little add on for our clients to help get their sale stock seen further afield – "Stock Shop".
Those who undertake a photo or video shoot with us to promote their stock prior to sale can now take advantage of our dedicated sales area on the Country Girl Media website.
We take pride in being part of the sales process for our clients often using our own contacts to help market stock, so this is already proving a worthwhile resource for those who have advertised. And with us already having such a vast array of clients, from those breeding pedigree beef cattle and sheep to those producing pedigree pigs to selling semen and embryos, there's sure to be something that will catch your eye!
While these listings will be completely free of charge to those who have booked us for a photo/video shoot, we're also offering an extra helping hand to our current clients who perhaps want to run a more generalised advert to help promote their stock for sale using their own images. These adverts will then be pushed through our own social media platforms for you as well as your own.
Anyone looking for a photo or video shoot to help market your stock, please don't hesitate to contact either Chrissie or Nicki to talk through the options available and to take a look at what's already on Stock Shop click here.
Chrissie Long – chrissie@countrygirlmedia.co.uk 07909 524483
Nicki Hartwright – nicki@countrygirlmedia.co.uk 07903 946202